Get Instant Relief From Aching Feet With These Acupressure Foot Massaging Slippers!
Are your feet always aching, sore and painful after a long day? Wish you could enjoy a foot massage every day?
Well our Acupressure Pain Relief Slippers are exactly what you need to instantly relieve the tension, pain & soreness in your feet!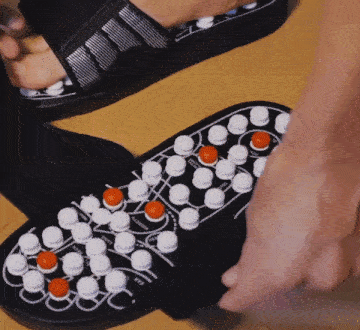 HEALYN™ have 82 acupressure points that have been scientifically arranged by professionals to target all areas of your body to promote better blood circulation, relieve stress, avoid leg cramps, better sleep and overall body tension relief.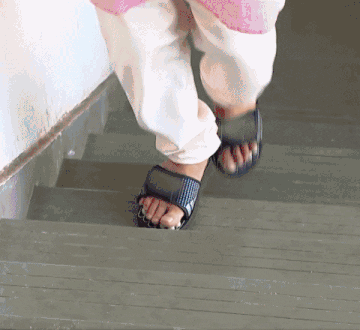 The rotating balls press into the pressure points on the bottom of your feet which, in turn, affects your whole body. Each ball is contrived to apply a maximum effect with minimal effort, gives your feet a deep tissue massage sensation like no other. Great for people who are constantly on their feet all day.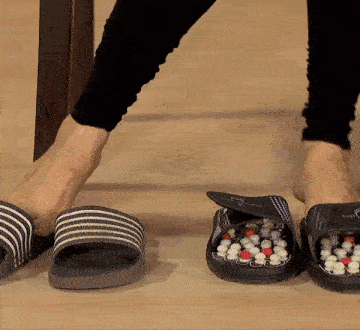 Our acupuncture slippers come with easy-to-adjust velcro straps to fit your feet perfectly. They also help the relief of plantar fasciitis, arthritis, neuropathy pain.
They are easy to clean and suitable for both men & women and 100% waterproof. Enjoy your very own deep tissue foot massage anytime, anywhere. 
HOW TO USE:
Warm up your Body by walk for 15-30 minutes daily (NOT all day). You may feel a little uncomfortable or pain during the first few usages. Simply add a pair of socks and shorten the wearing time while your body adjusts to the pressure sensation. The pain indicates that the rotating balls are working!
FEATURES:
Improve your blood circulation and metabolism.
Relieve aches and pains such as headaches, migraines, neck pain, backaches.
Relax your tired feet and make you sleep better.
Help with plantar fasciitis, arthritis, neuropathy pain.
Material: EVA and PU.
Available sizes:
PACKAGE INCLUDES:
1 Pair x Foot Massage slippers.