It's NO fun when you go to get into your car and the seats are burning hot and the air is sweltering! We've designed this amazing Universal Car Sun shade Cover to easily fit all types of vehicles. It is known to eliminate the glare of sunshine, UV radiation, and significantly lowers the temp in your car.
Introducing CARSUN™ constructed with a durable mesh fabric. This car shade significantly reduces visibility inside the car for excellent privacy and protection whilst also keeping your car cool.
CARSUN™ is made of a flexible, stretchy mesh material that helps block the sun, making your child safer and your car cooler. This shade won't hurt your car's paint job or its interior, either. This durable, lightweight fabric simply pulls down over the car door. Installation could not be simpler! Close the door to secure the shade, which is so thin and light that you'll never know it's there. 
This is really perfect for any children that ride in the back of your car, as you can keep them Cool and block the Sun!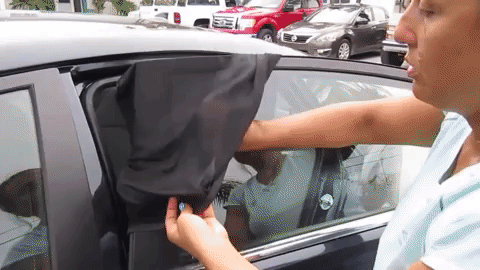 FEATURES:
Helps block the sun, reduces the interior temperature, protects rear seat passengers from glare and sunburn
High breathable mesh allow the air flow into the inside of the car when you roll down the windows
Fits All (99%) Cars as it is a stretch material and can be manually adjusted.
Durable and High-Quality Mesh. 
Windows can roll down with ease 
No hooks or complicated clips required, easily installs. 
Doors can open and close normally whilst shade is installed.
You can see from inside out, the view is not obstructed.
Lightweight and foldable, thus occupying no room inside the car
HOW TO USE:
SPECIFICATIONS:
Made of a flexible, stretchy mesh material
Material: Mesh Fabric
Dimensions:

S

:

100 x 54cm
M

:

113 x 50cm
L

:

 126 x 52cm

Heat Insulation Rate: 20%-40%
Ultraviolet Blocking Rate: 80%
Color: Black
YOUR PACKAGE WILL INCLUDE:
– 2Pcs of Car Window sun shades.