Are you worried about your cat's dental health?
Cleaning your cat's teeth is important. As they grow older, Tartar and Plaque build up on their teeth…
Keep your kitty's teeth clean. These cat chew toys help to improve your cat's dental health by providing a flossing and cleaning action to their teeth and gums while your cats chew. Great for play and pampering, these cute cat chew toys also contain catnip strips to engage your cat during playtime and offer a fun way to improve and maintain their dental health.
Have an easy, fun & effortless way to clean your cat's teeth with the Interactive Cat Dental Toy!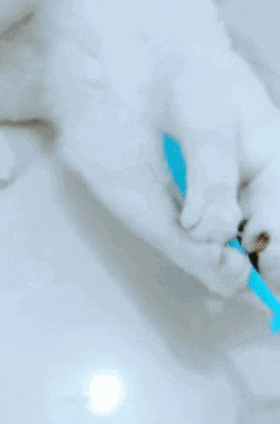 This NEW plaything for your furry friend is designed to do just that!
FEATURES:
CLEANS TEETH & MASSAGES GUMS

 

– Silicone nubs and nodes leave them with clean teeth and healthy gums as they chew on.
REDUCES ANXIETY & BOREDOM

 

– Cats become active and alert due to the catnip's effect. Catnip has a strong, aromatic fragrance that cheers up your cats and they can hardly tear themselves away from it.
EASY REFILL – Just insert catnip pods and immediately attract their attention.
DURABLE – Made of premium soft but strong silicone material that won't tear easily.
EASY TO CLEAN

 

– Just wash under tap water then dry with cloth or tissue.
Keep your feline's teeth clean the fun way! Grab the Cat Dental Toy Now! 
PRODUCT SPECIFICATIONS
Material:

 

Silicone
Available Colors: Blue / White / Pink
Size:

 

17.4cm x 2.7cm
PACKAGE INCLUDES:
1 x Cat Dental Toy!
1 x catnip strips ?