Made of stainless steel, these reusable nespresso capsules are designed to be infinitely reusable. 100% zero waste, you will be reducing your environmental impact with every brew. 
Our Reusable Coffee Pods are reusable and eco-friendly capsules compatible with various coffee machines, including yours. They not only save you money, but help save the planet. You save more than 70% on your coffee expenses every year by getting a Permanent Pod and reusing it forever. Standard, single-use capsules are more than five times more expensive than ground coffee from supermarkets. By using Permanent Pods, you can save over a thousand pounds annually. Each Permanent Pod sold equates to over 10 000 standard coffee capsules removed from landfills. Thus you help save the planet at the same time.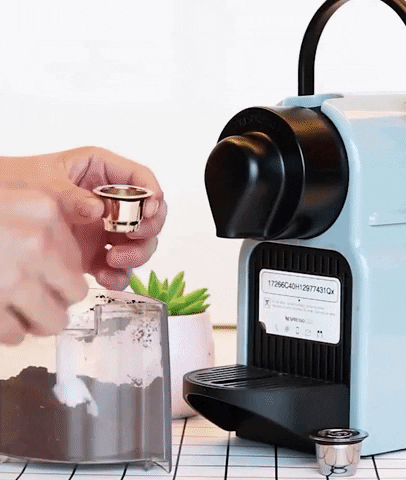 It's a complete stainless steel capsule that comes with steel lid so you don't have to worry about disposable lids getting empty. The lid locks via O ring, so no tightening of screw and spilling your coffee. The kit comes with free brush and spoon for easy refill and cleaning. 
Reuse nespresso pods, make the switch and you'll be helping the planet by reducing the amount of waste going to landfill. 
COFFY is compatible with:
Caffitaly S21
Caffitaly S22
TCHIBO


Cafissimo

Pure Ruby 326531
TCHIBO Cafissimo Mini 313212
FEATURES:
Waste-free and environmentally friendly

Makes brewing your favorite ground espresso sustainably easy.

Made of Food Grade Stainless Steel. 

Good for you and for our planet

To clean, simply rinse under running water or place in a dishwasher. 

Super easy to use and clean.

 

R

eusable

 as often as you want.
HOW TO USE:
All you need to do is put a capsule into your coffee machine, and you'll have your favorite beverage ready within seconds.
After filling your Coffee Pods with 'fine' coffee, press it down lightly with the base of your spoon. Top up with more coffee and press down again lightly. Stick a lid on and pop your pod into your machine like normal. 
After you've brewed your coffee, don't forget to get your COFFY out of your coffee machine basket! Once it's cool enough, remove the lid and wash out your pod ready for its next use. 
SPECIFICATIONS:
Material: Stainless Steel
Color: Silver
THE PACKAGE INCLUDES:
1 x

 Stainless Steel Capsule

1 x Stainless Tamper

1 x Spoon

1 x Mini Brush