NO MORE EXPENSIVE BILLS FOR PET GROOMING! This professional

Pet Grooming Clipper Set

will provide your pets with excellent cutting experience! 
For humans, a new haircut can be all about looking good and feeling fresh. But for our pets, proper grooming is essential to keep them healthy and happy. Taking your pet to a professional groomer may not always be feasible, but grooming your pets at home can be an easy and enjoyable way to care for and bond with your pet while saving time and money.
GROOMY™ Pet Grooming Clipper Set keeps your pets always looking good, it's very useful both in home and professional salon use!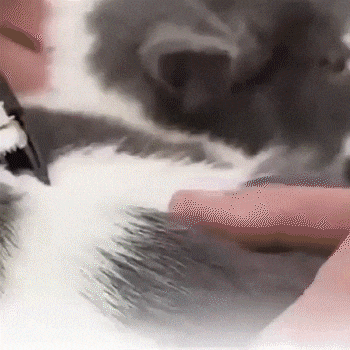 Why do you shave your pet?
Not only will grooming help control shedding, it helps your four-legged companion stay comfortable and allows you to spot certain health problems before it's too late. Plus, it's a great bonding experience with your pet.
FEATURES:

 
5-Length Fine-Tuning Knob:
There is a 5-length fine-tuning knob on the clipper, which brings the ceramic blade in and out so you can get the exact length you want. It offers five level of length (0.8mm-2mm) for precise adjustment on hair length. You can safely trim your pet even if you've never done it before.
The professional Pet Grooming Clipper Set uses 3.7V powerful motor, thus it has a high speed rotating speed and support strong power to work fluently without pulling at hair coat. Allow your pet always has a safe and happy experience.
Precision-cut Without Hurting Your Pet:
Upgraded titanium fixed blade and ceramic moving blade is processed with 30°acute angle. The blade is sharp with quick cutting ability and the hair will not get stuck. R-shaped edge design, prevents accidental injury to your pet. Don't hurt your pet's skin.
Cordless Operation: Allow cordless use after charging or replacing battery. Free your movements and use with ease.
Working While Charging: It can also be used when charging so you don't have to worry that it will stop working and have half groomed pet.
Rechargeable & Removable Li-polymer Battery:
Li-polymer battery offers long-lasting trimming performance. It can be used for 120 minutes after a full charge of 3-5 hours, longer working time and shorter charging time than Nickel-cadmium battery which only can be used for 60-70 minutes while need to charge for 4-6 hours. Provide you more conveniences.
HOW TO USE:
Before clipping, make sure your pet is properly bathed, dried, and thoroughly combed or brushed. This will ensure the clipper glides smoothly through your pet's coat for optimal results. Clipping an unclean pet is not only more difficult and time consuming, but it will also dull your blades.
SPECIFICATION:

 
Input Power: 100V-240V 50/60Hz
Dimension: 45*175mm
Charging time: 4-5 hours
Using time: 60-70 mins
Net weight: 650g
Color: gold
Power cord length: about 175cm
Accessories: 3mm, 6mm, 9mm, 12mm Limiting combs (used for adjusting hair length), an adapter, a cleaning brush
PRODUCT LIST: 

1* Electric Clipper
1*Usb Data Cable
1* Lubricant
1* Cleaning Brush
4* Limit Comb 
1* Manual