Carry your kid. Stash your stuff. Save your back.
Carrying your kids is a big fat pain in the neck, back, arms, hips. Between hoisting them up, shifting them from one side to another, smooshing them into hot little sacks, or strapping them into complicated carriers, it's surprisingly difficult. We've all been here.
The Baby Hip Seat Carrier is here to help you solve all these problems! It is a soft and simple baby seat that sits right on your hip with just one safe and sturdy buckle to put it on. Boom, you are good to go.
HIPETO™ evenly distributes your baby's weight so you don't have to constantly switch sides or strain your back.
Approved by both pediatricians for babies, and chiropractors for adults.
The supportive ergonomic seat puts your baby's hips in the pediatric-recommended "M" position, and reduces painful spine curvature for grown-ups.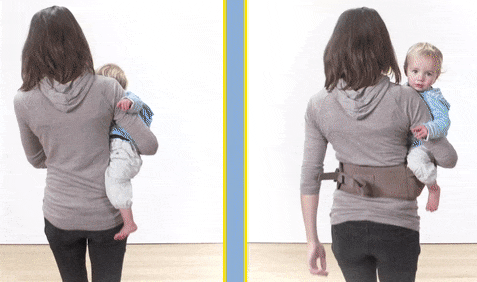 Benefits:
Carry Your Baby Pain-Free – Allows you to easily carry your baby without pain or injury to your shoulders, arms, or wrists.
Adjustable and Easy to Use – Snaps easily into place. It only takes seconds to put on or take off. Ideal for babies up to 44lbs.
Multiple Positions – Allows you to hold your baby however you like.
No Cumbersome Unstrapping – Since the baby hip seat and storage pack secures around your waist and not around your child, you can lift or set down your baby whenever you like.
Fantastic Storage – The storage pack allows you to conveniently store items limiting the need for a backpack or diaper bag. It even has a handy outer pocket for your cell phone.
Comfortable for both baby and parent.
Specifications:
Material: Poly, Polyester & Cotton
Colors: White, Yellow, Purple, Brown, Rose Red, Blue
Size(L x W x H): 43.00 x 22.00 x 22.00 cm / 16.93 x 8.66 x 8.66 inches
Package Included:
1 x  Baby Hip Seat Carrier
Once you use it, you'll never be around without it.