With EPILAIR™, you will never have to shave or wax again!
Why pay thousands of dollars for a professional laser treatment to remove unwanted hair, (not to mention the pain that go along with it) when you can remove your hair all on your schedule, in the comfort and the privacy of your home, at a fraction of the cost, yet with minimal pain with the help of the EPILAIR™ IPL Instant Painless Hair Removal!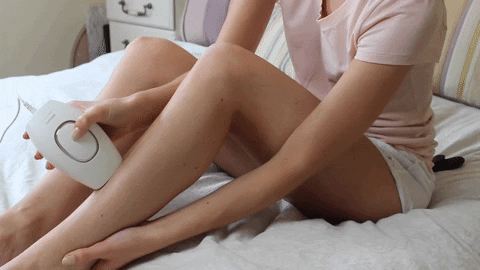 Why IPL Hair Removal?
Shaving is tedious, time-consuming, and hardly lasts a day. Not to mention, the shaved hair grows back thick and sharp. 
Waxing can be an extremely agonizing experience that often leaves the area irritated and bruised. 
Clinical laser hair removal costs thousands of dollars and requires you to sit through many hours of painful zaps.
However…
IPL Hair Removal is…
Instant & Painless
Long Lasting
Anytime & Anywhere
Save $1000+ Per Year on razors, waxing, and spa visits
This hair removal device effectively removes unwanted hairs and inhibits it from growing with continuous use. It works using Intense Pulsed Light (IPL) technology that emits rapid light pulses. The pulse works under the skin's surface to target hairs at the root to inhibit their growth. 
The melanin in the targeted hair absorbs the light, which in turn creates heat that destroys the hair starting from the roots, so the hair can shed naturally and effectively.
It's gentle enough for everyday use and it won't cause irritation at all! It can be used in the underarms, legs, thighs, bikini line, face, neck, shoulders, and back. (yes, there's no need for trips to spas to do the job anymore), and it's safe and painless too. 
HOW TO USE:
Shave the targeted area before using, so the hair can absorb the pulsed light and shed more effectively, clean, and dry your skin
Begin on a low level or power, and gradually increase as necessary (Press and hold the big button until you see a flash, and that's when you've done one pulse. You can repeat the step on the other areas you want to target onto until you're done. Once you've finished, turn the device off and don't forget to unplug it from the wall.)
Use once a week for the first 12 weeks
Then once per month for 3 months if needed 
For best results, use on hair that has more pigment, and skin that has less pigment. 
This is because our advanced IPL works by locating the pigment in the hair, and this can otherwise result in lower performance. 
See the owners manual located in the packaging for more details. 
NOTE:
For first-timers, we highly recommend that you use the device once a week for the first 3 months for the skin to adapt to the routine.
Afterward, you can use it once a month as needed.
You can surely expect to see the result after a couple of treatments, where you'll see the skin starts to get smooth and more hair starts to fall out.
And yes, you can use the device almost anywhere on your body, including your face (just don't get too close to the eyes). 
PACKAGE INCLUDES:
1 x IPL Instant Painless Laser Hair Removal
1 x manual
1 x charger