Stop searching for a leash when you want to walk your dog! This cleverly designed collar has an attached, retractable leash to make walking your dog simple and safe.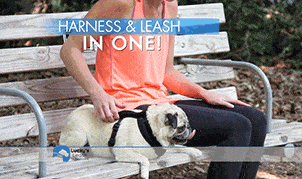 With the new Pet Leash there will be no more struggling with hooks and clips while trying to get ready to take your dog out. The days of losing the leash while they are anxiously awaiting to go out are over!
This Pet Leash is a convenient solution for busy pet owners. It is a collar and retractable leash all in one, will help you spend less time searching and more time with your furry friend.
The telescopic cord extends up to 57″ and retracts into the collar when not in use. The hand strap magnetically attaches to the collar when not needed.
Never Again will you need to search for your dogs leash or get it tangled up while taking your dog on the go.
FEATURES:
For Active, Busy People
No Batteries Required
2-in-1 Retractable Leash & Collar in one
Save time searching for your leash
Size Large, fits most dogs between 36 – 80 lbs
Magnetic collar makes storage of the leash quick and easy
Telescopic retractable leash
Magnetic collar
Adjustable
Retractable leash extends to almost 57 inches