Many people want to be able to sew at home but do not have a lot of space to do it in, the mini sewing machines the ideal solution!
MINISEW™ is a mini desktop sewing machine which allows you to produce professional-looking crafts anywhere, giving you the chance to create your favorite projects at home. Whether you are taking it to a class or an absolute beginner that doesn't need a lot of machine, it is ideal !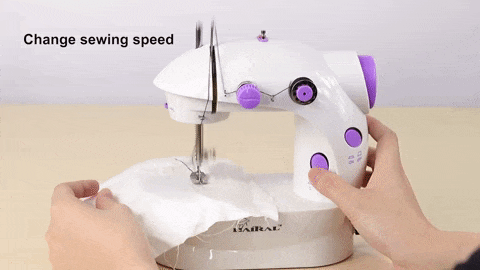 Make your sewing works easy with the Mini Sewing Machine.
The mini machine features speed controls, allowing you to adapt the rate to suit your projects. There is a slow speed for delicate sewing or small sections and a faster speed to allow you to work quickly on larger areas.
The machine comes pre-threaded and ready to use; simply plug it into the mains or use four AA batteries to get started. You'll also be able to transport this handy machine anywhere thanks to its lightweight, small construction!
This is perfect for beginners looking to try their hand at a new hobby and for lighter sewing, quick-fix jobs!
Features:
This Sewing Machine is compact, portable and ideal for all your sewing needs.
Comes pre-threaded and ready to use right out of the box.
Features power alloy gears to guarantee long term use and comes with a pedal for easy control, 
you can choose hand switch or foot pedal to control.
Powered by power adapter or batteries(not included). 
Excellent for many home sewing projects : altering and creating clothing, crafting, quilting, home decor, etc.
Offers double thread sewing, neat and straight stitch. 
The speed can be switchable: low or high speed.
With a light, convenient to thread needle.
Specifications:
Power Supply: Power Adapter or Batteries(not included)
Power Adapter: AC100-240V
Batteries: 4 * 1.5V AA Batteries (not included)
Item Size: 17.5 * 9 * 22cm / 6.89 * 3.54 * 8.66in
Item Weight: 649g / 22.89oz
Stitch Length: 2mm.
Sewing Thickness: 10mm
Package Inclusion:
1 Sewing Machine
1 Foot Pedal
1 Power Adapter
1 Bag of Accessories
1 User Manual (English)