This Metallic Chrome Mirror Nail Polish will make you stand out and shine.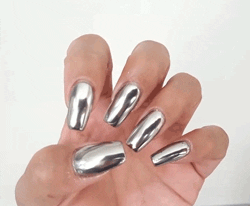 It's super cool-looking metallic!
Get this

 

futuristic shiny mirror look easy peasy!

 

Simply apply 2 coats

 

of this awesome nail polish and then you're all set.
Hassle-Free Process
No need for UV light, gel-powder or gel solution!
It's

 

quick-drying

 

and you'll

 

see the unique mirror effect immediately.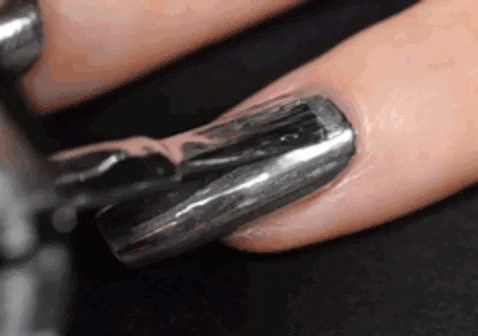 Full Nail Coverage
It effectively

 

hides any imperfect nail surface

 

like dents or uneven nail cuts.
Absolutely Long-Lasting
It can last days!

 

Enjoy gorgeous metallic nails for a good long while.
Scratch-Resistant and Waterproof
It's made with

 

durable and brighter base oil

 

so your

 

nails stay perfectly colored and flawless no matter the weather.
Easy to Remove
It

 

effortlessly wears off

 

like gel

 

in minutes!

Simply

 

soak your colored nails in acrylic remover for over 5 minutes,

 

and

 

then rip the whole piece of nail polish off your nails.
Say bye bye to boring nails! You won't regret upgrading to this Metallic Chrome Mirror Nail Polish. It's trendy, bright, and oh so glamorously futuristic… it'll make you feel like a dashing diva! Enjoy the coolest nails in town and standout from the crowd.
NOTE:
Shake bottle well before using to get an even coloring.
Do not use for other purposes other than nail polishing.
Store in a cool, dry place away from direct sunlight or heat.
Keep out of reach of children and pets.
PRODUCT SPECIFICATIONS
Main Ingredient/s:

 

Steel Balls, Mineral, Coloring Pigments
Net Weight:

 

About 6ml
Shelf Life:

 

3 years
Available Colors:

 

Silver Gray / Gold / Blue / Pink / Rose Gold / Black
PACKAGE INCLUDES:
1 x Metallic Chrome Mirror Nail Polish