With Ceramic Nail Drill Bits you can take off gel polish in seconds, sharpen, grind, neaten, carve, smoothen, polish, reshape gel and acrylic nails and stimulate nail growth and at your home.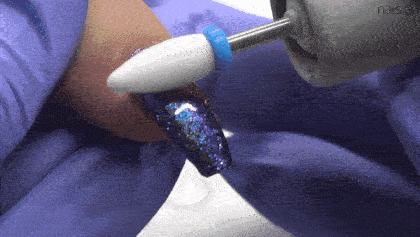 It will help you to take care of the cuticle, sidewalls and nail plate in a quicker and safer way.
They are available in a variety of types and shapes :
DRILL BIT – CONE:
Used for smoothing, Enhancements and Gentle removal of gel polish
Very sharp and effective ceramic drill bit for removing building gels, camouflage gels, acrylic masses and any hard nail plate material.
removes UV gels polish and gels in a few seconds, is safe, does not carry the risk of damaging the skin due to the lack of creases.
CONE BELL BIT:
The shape of this bit is pointed and small. This particular shape helps the bit to get in tight spaces. It can be used under the nails as well as at the cuticle or sidewalls and can be used on top of the nail as well.
DRILL BIT – BARREL BALL:
Has a smooth top
Perfect for artificial nail rebalancing or removal. 
Removes dead and excess eponychium
Great for callouses and other excess hard skin too.
This bit is an extra Coarse multidirectional cut and has a gentle serration over the rounded edge, so not only is it fantastic for removal of Gel and Acrylic Enhancements its also brilliant for smoothing and refining and getting into those hard to reach edges!
UNDER NAIL CLEANER:
Used for delicate cuticle work, lifting the eponychium, for cuticle removal from the nail plate and under nail cleaning.
removes all dirt, discoloration, lines characterized by a natural plate of the nail form (there usually accumulate most dirt).
Precise, effective and safe
The great thing about Ceramic coated bits is that they are long-lasting. The ceramic bit also has flute-like cuts which help the bit to shave off the product. We have the ceramic bits in several grids such as medium coarse and fine. The ceramic bits intended to reduce heat and they can be cleaned and sterilized
The bits can trim the cuticle, sidewall, or go underneath the nail to keep them clean.
The benefits are plentiful:
No clogging.
Resistant to acid, alkali and heat.
Maximum durability.
Unrivalled precision.
Fits all standard 3/32" (2.35mm) electric drill file nail machines, can be used to get into tight areas such as sidewalls and cuticles.
Suitable for sharpen, grind, neaten, carve, smoothen, polish and reshape gel and acrylic nails, and stimulate nail growth. Both for natural nails and artificial nails, great tools for any professional use.
AMAZING DURABILITY with corrosion resistant carbide so it won't ever rust; is heat resistance to protect from overheating damage.

Specifications:
Type: Nail Nursing
Tool Material: Ceramic Color of Bit
Head: White
Package

 

Includes:
1pc * Nail Art Drill Bit