Safely and effectively remove nasty mats, tangles and knots in minutes!
Pet Hair Knot Remover provides gentle and precise dematting for dogs/cats with sensitive skin.

No-scratch rounded outside teeth gently massages without scratching the skin. Sharp inner teeth cuts through the toughest mats and tangles.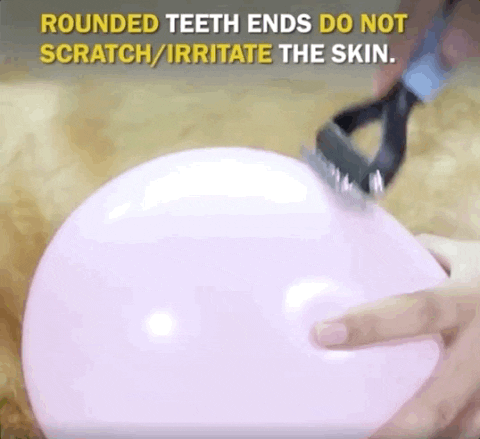 Get healthy and silky coat with NOKNOT™

FEATURES:
SMOOTHLY CUTS THROUGH MATS without pulling hair out.
REDUCES SHEDDING.Regular brushing removes excess dead hair from pet's undercoat.
SAFE FOR YOUR FURRY FRIEND. Rounded teeth ends do not scratch or irritate the skin.
EXCELLENT FOR ALL BREEDS.Especially heavy or double coated dogs.
COMFORTABLE & DURABLE. Designed with an anti-slip handle for comfortable daily combing.
Package Includes:
1 x Pet Hair Knot Remover