Give your cat the happiness it deserves with our Peek-A-Boo toy!
Are you trying to find unique ways to keep your cat engaged? Many cats are content with sitting on the window sill and taking naps, but it is vital for them to be stimulated.
When it comes to play, it isn't just about fun and games. For cats that love exploring, the act of play is serious business that helps kitten learn important survival skills like stalking, chasing and trapping prey.
If your cat decides to venture outside your home, their natural instincts is to hunt. It is important to satisfy their natural instinct by keep them physical and mentally stimulated.
With our Peek-A-Boo cat toy, you no longer have to worry about your cat being bored ever again. Our Peek-A-Boo toy simulates the hide-and-seek game play to stimulate your cat's attention. With its unpredictable and random movements, it tantalizes your cat's natural instinct with endless amount of excitement.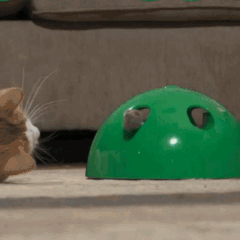 Features:
Your Cat Will Never Get Bored: Unique 360 design allowing individual or group play time! Unpredictable movements that will keep your cat entertained and engaged. Your cat will have endless amount of fun trying to predict its movement.
Features optional chirping sound to attract kitty to play, just like real prey!
Durable and Long Lasting: Non-slip and sturdy base that will endure destructive cats ?. Our Peek-A-Boo is built to take the brute force of your cats play!
Cat Friendly: Quiet and silent so your little kitty cat won't be scared! Suitable for all cat breeds of all ages.
Attractive Built: Interchangeable fluffy mouse bait or feather bait to grab your cat's attention.
Specifications:
Power: 4 * C batteries ( not included)
Package Includes:
1 × Peek-A-Boo Cat Toy
1 x Interchangeable mouse and feather