PETOY™ is the toy your PET is going to love! Interactive toys are one of the best you can give your furry friends, keeping them entertained for hours.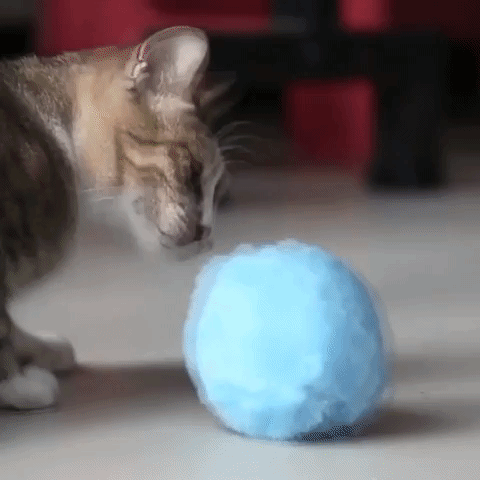 The ball rolls with random movement stimulating your Pet's senses and holding their attention for hours on end.
Watch as your pet enjoys chasing around the ball as it rolls across the floor. It's a guaranteed fun time not only for your pet but for you as well. Interactive toys are one of the best kinds you can give to your furry friends and this one is designed to keep their attention. This will keep your pet entertained for hours and even dust your floors as a bonus!
This roller ball will help him stay engaged and would keep him distracted from destroying the furniture out of frustration. You can let your pet feel safe and surrounded with favorite toys to tackle its boredom. This ball makes noise which attracts pets to follow them.
This interactive ball toy stimulates pet's nose and mind senses and train them to play fetch. Also, aids pet's growth and development. 
Available in four colors: Pink, Yellow, Blue and Green. The ball is covered from outside and the cover can be removed by unzipping it. While cleaning, simply remove the cover and wash it. Once dried, put it on the ball.
To give your pet a perfect playtime, this ball combines sound and speed which every pet loves to follow. So, do not have any second thought about the usefulness of this toy and gift it to your paw friend right away.
Key Benefits:
Stimulates your pet's nose and mind
Prevents boredom and loneliness when you're away
Prevents unwanted destructive behaviour due to boredom or anxiousness
Helps aide your pets growth and development
SPECIFICATIONS:
Material: Soft plush and plastic
Size: 10cm
Power: AA battery (not included)
Package Includes:
1 x Roller Ball Toy
4 x Colorful pouches  (4 colors)
These custom designed Magic Roller Ball Toys are a MUST HAVE! Designed with premium high quality material!