Thousands of dogs die each year in car accidents!
In a crash, a dog will often be badly injured as it sails through windows or into panels. Dogs who love to go for drives often jump into your lap and distract you while driving. There's nothing more important than keeping your dog safe!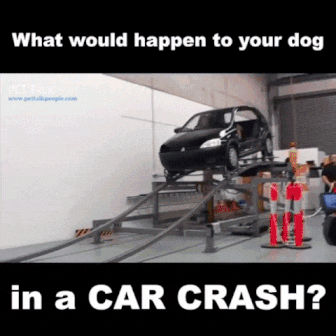 PETSAF™ safeguards your pet, is quick and easy to install, and allows them to move more freely without being confined to a rocky cage. Your dog can look out the window and enjoy the scenery without you worrying about him stretching too far, or he can lie down or sit comfortably without distracting you as you drive.
Features:
Designed to keep you and your dog safe during drives
Pet can sit, lay or stand freely yet safely in the car
Universal buckle fits almost all cars
Adjustable in size (Made for all types of dogs)
Specifications:
Adjustable length: From 45 To 72 cm
Width: 2.5cm
Made of high quality and durable nylon fabric
Colors: Black, Blue, Red, Green, Pink, Grey, Orange, Sky Blue.
Take your pets along for the rides and drive stress free