Tired of seeing your smooth hair dried, withered and forked after using a blow dryer? DRYUP™ can make your hair dry in 5 minutes. It only takes 5 minutes!!!

The super lightweight alternative to walking around with a heavy towel on your head! Now, do your make-up, paint your nails and get your glam on, while your hair stays put and dries, quickly!
Prevent applying too much heat to your hair that causes damage by using our Quick Dry Hair Towel, it lets you dry your hair in just a matter of minutes. 
The Quick Hair Dry Towel is made of super soft microfiber fabric. Letting you feel the soft fiber while protecting your hair from loss of moisture. The super soft microfiber keeps your hair tucked neatly allowing you to do your makeup and dry it quickly at the same time. 
Gorgeous, Healthy Hair, without the heat.
Super water absorbent, fast drying, time saver, drying your hair 100% naturally Quick Magic Hair Dry Towel!  Electric hair blower no longer needed!  Reduces risk of split ends.
100% superfine composite fiber material with a button to secure your bath towels.  Your Hair will not slip when you take a bath.  Extremely easy to use!
The Quick Magic Hair Drying Towel is ideal for everyday use at home, gym, and travel.  Great assistant in facial, bath, makeup, face wash. Fits all hair types and lengths.
Using the hairdryer will do great damage to your beautiful hair. The towel will absorb moisture in your hair throughout this time. It is the softest least damaging way to dry long hair.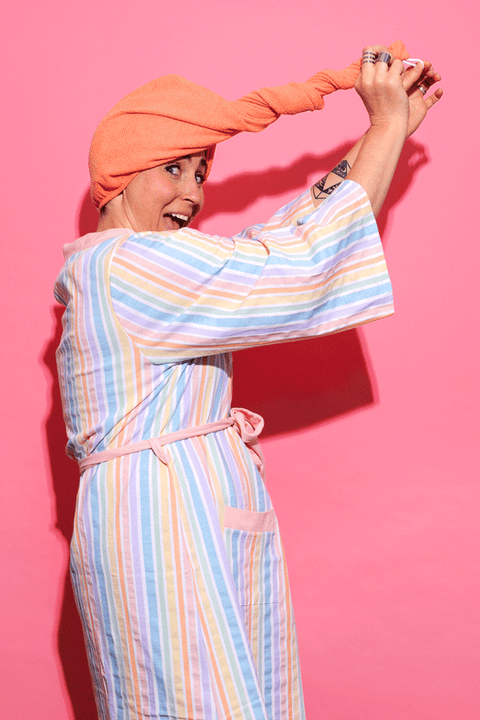 HOW TO USE? (2 Method)
Bend to make your hair hang down, put on hair towel on top of head (the end with button)
Wrap your hair with the hanging part of the towel
Pull up the secure loop across your head and fix it under the secure button.
SPECIFICATIONS:
Material: Coral Fleece (Microfiber) 
Measure: 27.16″ x 9.85″ (69 x 25 cm) 
Applicable People: Women / Men / Teen
Weight: 3.40 Oz (96.38g) 
Machine Washable: Yes
Secure Button: Yes
Washing Tip: No softener, bleaching or dry cleaning
PRODUCT INCLUSIONS:
1 x Quick-Drying Hair Towel