Shoes are one of the main points of contact in public places. As a result, people run the risk of bringing harmful pathogens into their homes, they can attach to shoes and remain infectious there for several hours, especially when people walk around in crowded areas, such as grocery stores, and use public transport…
Keep your home clean and your family safe with SCOVER™ : Automatic Shoe Cover Dispenser!
The best shoe covers dispenser, lets you keep your shoes on, without soiling your floors and carpets with mud, dirt or dust that you've tracked from outside, these shoe covers help keep microbes from coming into contact with your furniture and floors, and keep your family safe!
The shoe covers fit everything from sneakers to boots, and offer protection while still remaining breathable and lightweight — you won't even feel them on your feet.
SCOVER™ slides on easily, with a flexible elastic band that wraps around your footwear. They're kind of like a shower cap, but for your feet. It will keep all the germs and gunk on your shoe trapped in, so it stays off surfaces in your space. Keep them on your shoes until you're ready to head outside again, then simply toss the disposable booties in the trash, to prevent any spreading of germs.
If you're tired of people who enter your house with dirty, muddy shoes, or want to keep dangerous bacteria from tracking into your space, pick up a box of disposable shoe covers, to make sure you're putting your safest foot forward.
The shoe cover is very large and can be used by people who can accommodate more than 11.5in. Don't worry about size and buy it with peace of mind.
FEATURES:

The Shoe Cover's Machine is Automatic: Automatic shoe cover dispenser will easily and efficiently cover your shoes. It is made of PPT ABS safe to use and environmentally friendly.
No Need to Clean: Automatic shoe cover dispenser can keep your floor clean and neat, so you need not clean every time. 
NO Electricity: Shoe cover dispenser work on a mechanical spring, it will automatically release a bootie around your shoe when you stand up the center of the dispenser. 
Widely Use: High quality perfect for office, home, shop that needs the disposable shoe cover dispenser.
They 

are safe to use on all surfaces, from hardwood to tile to carpets and rugs.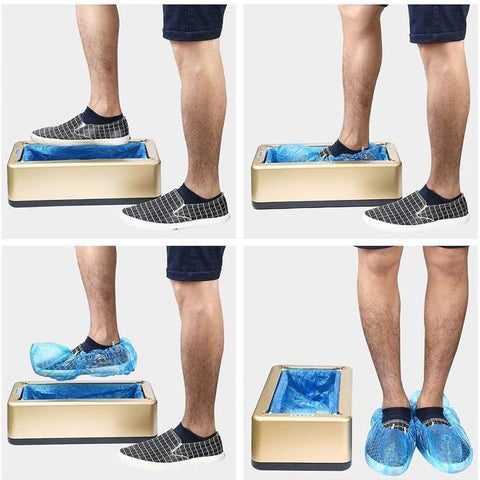 SPECIFICATION:
Weight: 1.8KG
Color: Gold
Size: 400 X 220 X125 (MM)
PACKAGE INCLUDED:
1 X Automatic Shoe Cover Dispenser
100pcs X Shoe Covers