GET A FRESHER, SMOOTHER & MORE RADIANT SKIN IN SECONDS!
Our Green Tea Cleansing Mask for all skin types helps lift away dull, dead skin plus dirt and debris to leave your skin looking clear and radiant. All while refining pores and detoxifying, which leaves your skin feeling flawlessly refreshed and smooth.
Formulated with powerful antioxidants like green tea extracts, Vitamin E, and Glycerin, this mineral-rich detoxifying mask helps to remove blackheads and minimize enlarged pores. It also deeply moisturizes and enhances radiance, instantly reduces puffiness, sagging, expression lines, and other visible signs of aging that can contribute to loss of facial definition.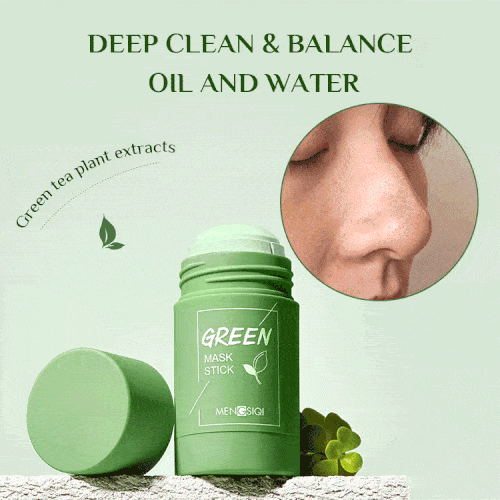 Designed in stick formulas, it is incredibly easy to use for visible results in as little as 5 minutes. The precise application specifically targets the areas of your face without any mess. Simply switch up the sticks depending on your skin's needs or use it as a multi-mask for full rejuvenation of the skin.
HOW TO USE:
Spin out the paste and apply to the face.
Apply evenly to the face and leave it on for about 10 minutes.
After it dries, rinse with water.
FEATURES:
Effectively cleans skin pores and dirt
Adjusts skin's water and oil balance
Replenishes skin moisture and nourish it
Reduces the formation of acne and blackheads
Suitable for all skin types
SPECIFICATIONS:
Ingredients: Green Tea Extracts, Vitamin E, Glycerin
Net weight: 40g
PACKAGE INCLUDES:
1 x Green Tea Cleansing Mask